Quality Affordable Plumbing Services in Norcross, GA and the Metro Atlanta Area
Quality, Faster at a Reasonable Price
678-621-6363
Rated 5.0 out of 126 reviews
25+
Years of Service
Since 1998
2000+
Water Heaters
Installed
1500+
Tools & Parts on
Trucks Stocked & Ready
From Our Family to Yours
3 Generations of Plumbing Expertise At Your Service
Our family has worked hard to earn our reputation for outstanding service. We look forward to enhancing your home's safety and comfort!
Emergency Services

Residential Plumbing Services
From simple leak fixes and clog clearing to more complex repairs on your water heater or gas lines, we've got the skills and experience to offer you the best solutions for your home's plumbing system.
We only hire the most qualified and experienced plumbers, and they all pass background screenings and drug tests, so you can rest easy knowing your home is in good hands.

Emergency Plumbing Services
With our main offices conveniently located in Norcross, we can be nearly anywhere in our service area in a short time. When you've got a plumbing emergency on your hands, from burst pipes to a leaking gas line, speedy response time is really the most important factor. Once we arrive, we get the issue expertly and efficiently sorted out to restore your home's safety and comfort.
Home Plumbing Service You Can Count On
Prompt & Professional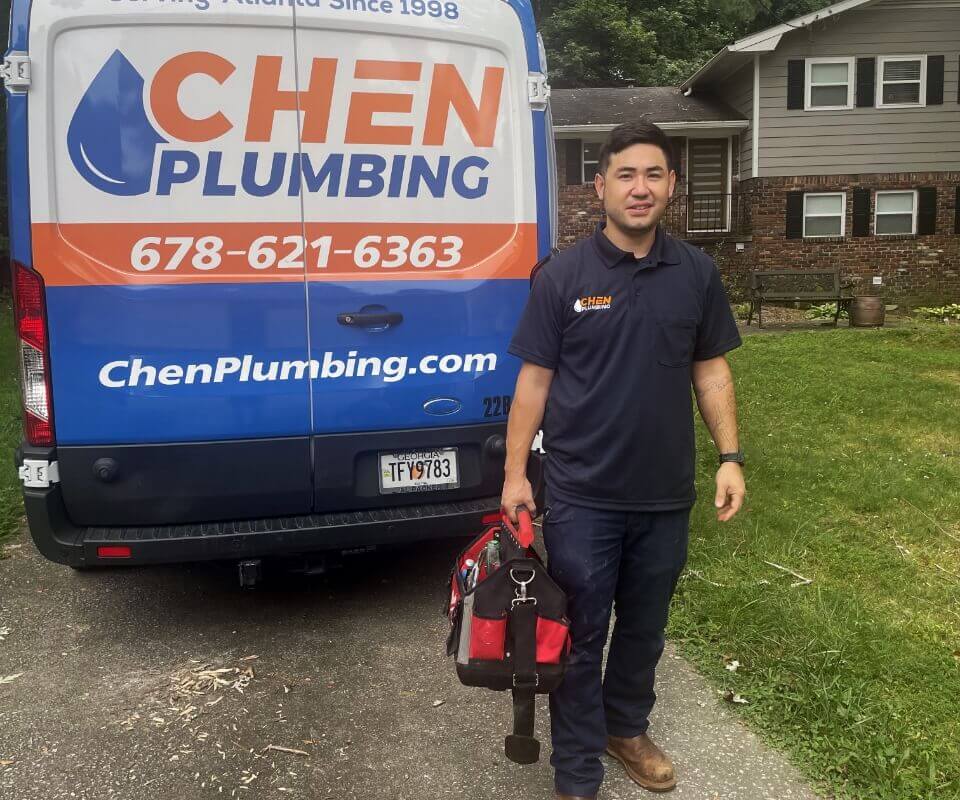 Keeping Your Home & Family Safe & Happy
Our founder, the son of a master plumber, immigrated to the USA in high school. He then started his own plumbing company in the late '90s after completing his education and licensure. The family legacy continues with our founder's son now an active member of Chen Plumbing. Our goal is simple: we want to enhance the health and safety of the people of the Metro Atlanta area by providing you with top-notch plumbing services that ensure your water supply remains uncontaminated and hygienic.
About Us
Our Clients Love Recommending Us
Find Out Why

Professional. Made tenant feel taken care of and me well-informed

I was very happy with Matthew's help for our leaky shower head. He quickly discovered the root cause of the problem with a old and rusty pressure valve. He clearly explained to me how that also needed to be replaced. I'm so glad he looked into the root cause, otherwise we could have ended up with many more problems. I highly recommend Chen's plumbing and Matthew in particular; nice guy, knowledgeable plumber, and fast worker.

Eric's work was excellent. After he assessed the plumbing problem, Eric explained what he was going to need to do and how much it would cost. He took his time to be sure everything was done correctly. He cleaned up his work area afterward.
Metro Atlanta's Trusted Local Experts
We cover a large area of the Metro Atlanta region, particularly the communities surrounding Norcross. Don't see your community listed? Chances are good that we'll happily offer service if it's in our general service area: Forsyth, Fulton, Gwinnett, Cobb, Dekalb, and Cherokee Counties. Give us a call and we'll see how soon we can be there! And of course, we never charge a dispatch fee, keeping our prices as low as possible for you, our family of clients.
Our Service Areas